Palisade fence
is a new concept in security fencing in China which is widely used in the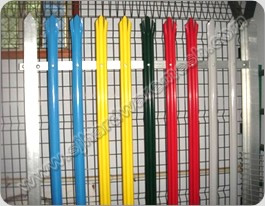 U.K. and South Africa. We provide aesthetically pleasing high security permanent fencing for industrial and residential premises. Our unique permanent bolt locking mechanism eliminates welding and promotes ease of installation for DIY.
Palisade is a style of fencing, which is now popular in steel around many industrial sites. Palisade is more secure than many other fencing systems so wherever security is priority palisade is used.
Palisade fence
is available in a range of finishes, galvanized in, or galvanized and colour coated in various colours to blend with the environment.
Shengjia
offers their
Palisade fencing
with either traditional
'D' section pales
or
'W' section pales
in a full range of heights from 1.2 meter up to 3.6 meter.
'W' section
high security fencing is another style of palisade. This type of fencing is an extremely effective first line of defense against the more aggressive intruder. Suitable for high security use.
'W' section
palisade is stronger and more durable than
'D' section
and is a lot more effective as high security fencing.
| | |
| --- | --- |
| | |
| | |
| 'D' section pales | |
| | |
| 'W' section pales | |
Palisade Fencing Specification:
The fence comes in heights ranging from 1.8m to 3.0m.
Fence Height
(mm)

Pale Profile
Sections 'D'
(mm)

Pale Profile
Sections 'W'
(mm)

Horizontal
Rails Angle
Section
(mm)

IPA
Section
(mm)

Length
(mm)

Support Feet Per Bay

1800

3

2.5

45x45x6

98x55

2400

2

2000

3

2.5

45x45x6

98x55

2625

2

2100

3

2.5

45x45x6

98x55

2725

2

2400

3

2.5

45x45x6

98x55

3125

2

3000

3

2.5

50x50x6

98x55

3925

2
The thickness of panels can be as follow: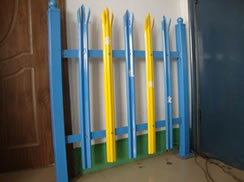 Thickness of 'W' Panel: 2.0mm,2.5mm,3.0mm;
Thickness of 'D' Panel: 2.5mm,3.0mm,3.5mm;
'L' Rail: 2 Horizontal Rails, And1 post.
'H' Post:
Tamper Proof Nuts & Bolts:8mm.
Packing: pallet.
A range of standard heights and specifications are available together with a range of palisade fencing in stock.
Copyright © 2006, Shengjia Hardware & Mesh Co., Ltd . All Rights Reserved.
Add: Guoxi Industrial zone,West of Anping County, Hengshui City, Hebei, P. R. China 053600
Tel: 0086-318-7751166 7611628 7611728 7611936 Fax: 0086-318-7611718 7611528 sales@wiremesh-products.com